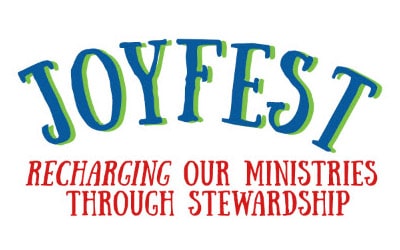 Saint Andrews family,
You've likely noticed a change in our approach to Stewardship in 2021—not because it is less critical in supporting the mission and ministries of our church, but because it is foundational to the ministry of Saint Andrews.
Stewardship is connected to the community inside and outside our doors, and it's how we joyfully respond in gratitude for all that God has given us.
Our church is vibrant, and we feel the work of the Holy Spirit coursing through the joyful voices of our choir, the joyful faces of our children and youth, and in the joyful energy of our Presbyterian Women and Men! When you pledge during Stewardship, you directly support the ministries and work of Saint Andrews.
We are recharging Stewardship by introducing JoyFest, a week full of activities and events centered around the many amazing ministries within our congregation. JoyFest will provide an opportunity for us to connect with one another (online and in-person) across generations and to engage with our larger community through service and outreach.
We hope and pray each of you will participate throughout the week and, through your participation, will both see and feel the impact of your financial support on our church. JoyFest will culminate with a celebration on Sunday, November 14. There will be an opportunity to bring forth our gifts and Estimate of Giving cards during worship, followed by a lunch on the patio.
Our Asking Budget has increased 3.5 percent over last year's Asking Budget. Church leadership and staff have worked hard to continue the ministries and missions of Saint Andrews while controlling the cost. Thank you for your past support and for your prayerful consideration of your 2022 pledge.
You may pledge by mail, online in the "Give" sections below, or by emailing or calling John Montague, our business administrator at jmontague@sapc.com.  If mailing, please return by November 15.
Lori Edwards and Nancy Roy
Elders
From the Presbytery of New Hope e-News | Dec. 10, 2021
Saint Andrews Presbyterian Church, Raleigh: Inaugural Stewardship JoyFest
For
most congregations, stewardship season follows a tried-and-true approach……but what would happen if we created a new way, a different way of doing stewardship? That question was the catalyst for JoyFest- a week-long celebration of the ministries of Saint Andrews. The week featured a different event or activity each day sponsored by one of our ministry teams with the entire congregation invited. The idea was that as members of Saint Andrews participated throughout the week, they'd reflect on the vibrancy of the congregation and all the ways that the church family gives of their time, talents, and financial resources to support what's happening within our doors and in the larger community. Stewardship, after all, is foundational to the ministry of the church. It is our joyful response of gratitude for all that God has given us.
The
Outreach 
ministry team kicked off JoyFest with a traditional Haitian stew and plantain lunch on the patio after worship where the congregation heard from Michael Anello of the Haiti Reforestation Partnership about the work being done in Haiti to support local farmers.  
Monday, the 
Adult Education 
ministry team presented a Zoom lunch-n-learn with Transitional Executive Presbyter Vanessa Hawkins who shared insights from across the denomination and presbytery that stretched our thinking about what it means to be a hybrid congregation—worshipping in person and online. There was plenty of food for thought served to all who attended. 
Tuesday evening featured a Zoom event sponsored by the 
Social Justice 
ministry team with Suzanne Miller, director of Pastors for NC Children. It was an informative session where we learned more about the challenges facing public education in North Carolina and what we can do to advocate for change and support schools in our community and state who do not have adequate financial resources. 
Children's and Family 
ministries sponsored a Zoom trivia night on Wednesday with questions to challenge our knowledge of the Bible, Saint Andrews church and North Carolina. A "dirt pudding" snack was enjoyed by all to remind us that even when things get messy, God always loves us.
In honor of Veteran's Day on Thursday, 
Youth and Family 
ministries organized an outreach event at the North Carolina Food Bank. Bagging sweet potatoes for distribution to food-insecure families was the task of the day. Fun fact – sweet potatoes are the largest food crop grown in North Carolina—we learned that during trivia night! 
Friday night was all about fellowship and fun sponsored by the 
Hospitality
 ministry. The congregation was treated to a movie under the stars on the church grounds. Some in attendance commented it had been a long time since they'd been to a drive-in. 
The 
Outreach
 ministry engaged members of the congregation in Brown Bag Ministries on Saturday morning. Sandwiches were made and lunches packed in brown bags and then we were off to a nearby apartment complex that's home to many refugee families in our community to hand them out. 
JoyFest culminated with Celebration Sunday. A time to bring forward our pledges and gifts including a presentation of symbols from each ministry team representing their mission and work…prayer shawls from the Piece Makers, music from the choir, blankets made by children's Sunday school, flowers from the flower ministry that serves our homebound, food from the youth to stock the Little Food Pantry and so many others. Following worship, a chili lunch was served on the patio where the celebration continued as Pepper's Porch Pickers shared their wide-ranging musical gifts. 
So, what happened when we did stewardship differently? The congregation engaged and we felt the Holy Spirit moving Saint Andrews church in joyful and meaningful ways!  
Article submitted by: Nancy Roy, elder
JOYFEST CALENDAR OF EVENTS
Sunday, November 7 – Outreach Ministry (After Worship)
Michael Anello from Haiti Reforestation Partnership will join us for an update on this long-running ministry at SAPC.  After worship, head to the entrance patio for a lunch of Haitian soup and fellowship.
Monday, November 8 – Education Ministry (12-12:45 pm Zoom)
Vanessa Hawkins, our Transitional Executive Presbyter/Stated Clerk for Presbytery of the New Hope will conduct a lunch and learn on Zoom to share the transitions and concerns she's hearing from other churches. We are not alone. You won't want to miss her talk!
Zoom Information
https://us02web.zoom.us/j/81086542859?pwd=RUJyVFp3UVFYdDUvd2Yyc3c1R25jdz09
Meeting ID: 810 8654 2859
Passcode: 875427
Tuesday, November 9 – Social Justice Ministry (7 pm Zoom)
Suzanne Miller, director of Pastors for NC Children, will share the important work her organization is doing with public education, the Leandro case, and answer questions.
Zoom Information
https://us02web.zoom.us/j/89701524808?pwd=a05TVHlzN21STXhoeEUwR3BxRlVnQT09 Meeting ID: 897 0152 4808 
Passcode: 223299 
Wednesday, November 10 – Children and Family Ministry (7 pm Zoom)
Trivia Night fun—let's go! Join us on Zoom for a friendly, mostly biblical trivia competition from the comfort of your living room. Please pick up a bag from the church with special things for this event. Bags available by November 7th.
Zoom Information
https://us02web.zoom.us/j/83667858743?pwd=emdFQzVTSGhhaU5VYlJxNmFFQnd6UT09
Meeting ID: 836 6785 8743
Passcode: 121350
Thursday, November 11 – Youth and Family Ministry (9 am-12 pm Food Bank)
Veterans Day service opportunity open to all ages 12 and over. The Food Bank wil assign duties once we arrive. This is a great way to give back to basic need alongside church youth. We will meet at the Food Bank, 1924 Capital Blvd, Raleigh, just before 9am.
Please RSVP at this link using Google Forms or call the church office to RSVP.
https://forms.gle/1GM8Vvzkfr78XVQm8
Friday, November 12 – Hospitality Ministry (6 pm SAPC Parking Lot)
Movie Night for all ages. Bring your dinner, chairs and blankets to the SAPC parking lot (weather permitting). We'll enjoy an inter-generational movie night under the stars. Popcorn provided! Movie – The Greatest Showman
Saturday, November 13 – Outreach Ministry (10 am St. Philip Lutheran)
Join us to pack lunches with Brown Bag Ministries and deliver them to Cedar Point apartments. This is a great way for little ones to get involved in giving back. We will meet at St. Philip Lutheran, 7304 Falls of Neuse Rd. , Raleigh
Please RSVP at this link using Google Forms or call the church office to RSVP.
https://forms.gle/1GM8Vvzkfr78XVQm8
Sunday, November 14 – Worship and Music Ministry
CELEBRATION SUNDAY! 10:30 am at SAPC Sunday school followed by a special service to dedicate pledge cards and other gifts to God. We'll celebrate those giftsand our wonderful SAPC community with chili and cornbread after the service on the entrance patio.
Give Online
Giving made easy
We use ACS, our church software, to process your giving safely and securely. The online giving site now includes a mobile app called Realm Connect to access online giving from your phone or tablet. Or, you can "Text to Give"– just text SAPC7506 to 73256.
Bank Draft
Set your monthly giving amount with a bank draft so that you'll never forget to write a check! Contact us below to get started.
Personal Check
If you prefer bringing or mailing your offering each week, you'll love our envelope delivery system. Contact us below to get your envelopes.