Saints Alive!
Sharing with others at a similar stage of life
Spread the Word – Bring a Friend or Neighbor!
Are you struggling with getting older? Trying to adapt to new limitations in body or mind, while maintaining a positive spirit? If you are interested in sharing with others at a similar stage of life, we have a group for you!
Saints Alive is not meeting in spring 2021, until it is safe to do so.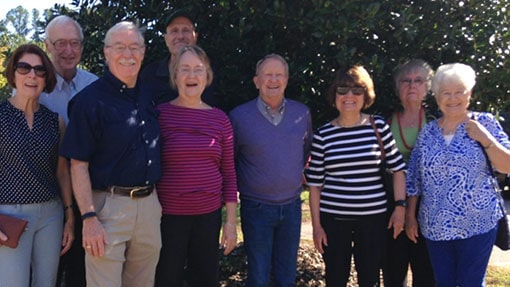 Learn, Listen and Laugh
Saints Alive! meets most Wednesdays from 11am-12:30pm in Room 6. We gather to learn, to listen, to laugh and to support one another. We have occasional speakers who bring us information on topics related to aging. We also do fun things like play games and go on outings. Our target age is folks 70 and older, but all are welcome to attend. We conclude our meetings by sharing bag lunches together – feel free to bring one. Questions? Contact our church office at (919) 847-1913.
Fellowships Groups
Find a place to be and become