Music and Worship
Make a joyful noise unto the Lord!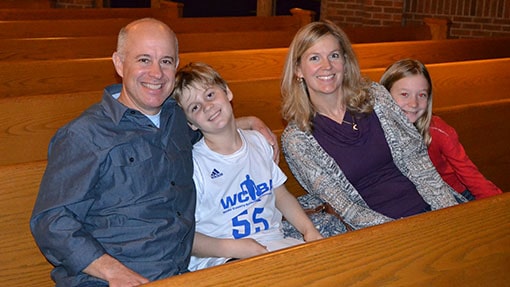 Worship at Saint Andrews
10am summer worship
Christian worship joyfully ascribes all praise and honor, glory and power to the triune God. In worship, the people of God acknowledge God is present in the world and in their lives. As they respond to God's claim and redemptive action in Jesus Christ, believers are transformed and renewed. In worship, the faithful offer themselves to God and are equipped for God's service in the world.
Join us for summer worship at 10:00am! We are excited to have you! If you cannot worship with us in person, join our live stream on our youtube page by clicking here. 
Sacraments We Observe
Our sacraments are outward signs instituted by God to convey an inward or spiritual grace.
Baptism
Baptism is a statement of God's claim on us, and is an acknowledgement of our attention to live as God's own. "Baptism calls us to the kind of mutual caring and sharing that characterized the early Christians, and that made others say about them, 'See how they love one another!'"
Communion
Everyone is welcome to take communion. As our denomination notes, "We who come need not be concerned about our personal appearance or aptitude. What matters is that the love, the grace and the hospitality of the host create unanimity among us. This meal is provided, not because we have earned the right to eat and drink with Jesus, but simply as an act of divine love." We celebrate communion monthly.
Click here for our schedule.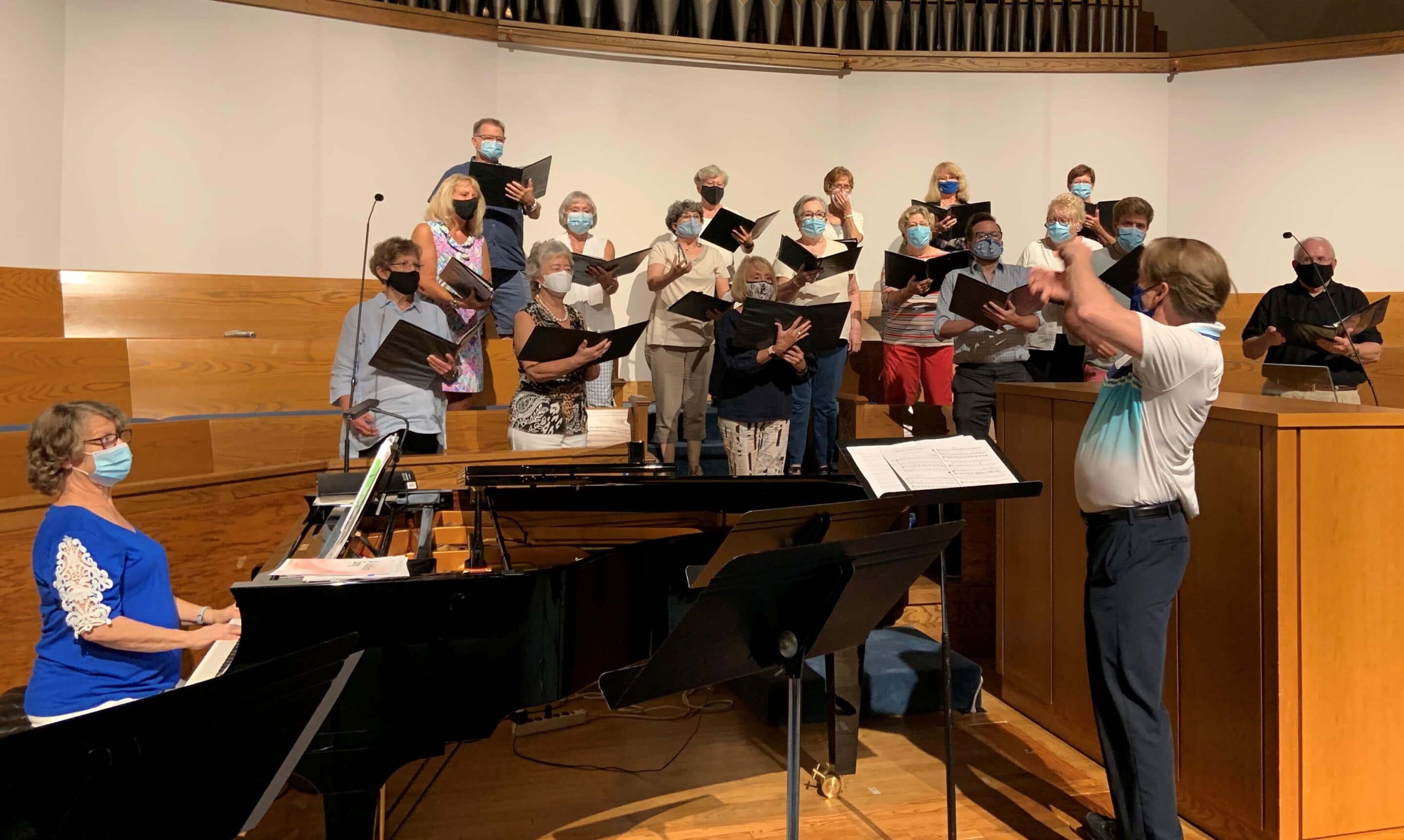 Music Ministry
Like its members, the practice of worship at Saint Andrews is varied and diverse, reflecting the wide range of stylistic possibilities contained within Christian tradition. Within that diversity is a focus on reformed theology that gives unity and consistency to all of our worship activities.
In its music and liturgy, weekly worship at Saint Andrews is blessed by the committed participation of its many talented and skilled members. It is further enhanced by its connections with the bountiful resources of Raleigh's faith and artistic communities, including members of the North Carolina Symphony, Raleigh Ringers and North Carolina Master Chorale. Saint Andrews seeks to add to the living corpus of Christian art as its worship regularly includes premiers of new sacred compositions.
Members have opportunities to serve in worship through the spoken word, music, creative arts and assistance with worship technology. If you want to learn more about or are interested in participating in any of the ministries listed below, contact our Interim Director of Music Ministries, Pepper Choplin.
Chancel Choir
The chancel choir is an SATB choral ensemble that provides musical leadership during our worship service. Drawing upon the rich musical traditional of sacred choral repertoire from past and present, the choir sings weekly anthems and incidental service music and provides vocal leadership for congregational hymns.
In addition, the choir presents larger choral works in worship and in concert. The choir is active during the academic year and is off during the summer. Rehearsals are held in the choir room at 7pm on Wednesday nights. Childcare is available with advanced notice.
Auditions are not required, though rudimentary comfort with the fundamentals of music and singing are helpful to any choir participant. The chancel choir is directed by Interim Director, Pepper Choplin and accompanied by collaborative pianist Catherine Hamner.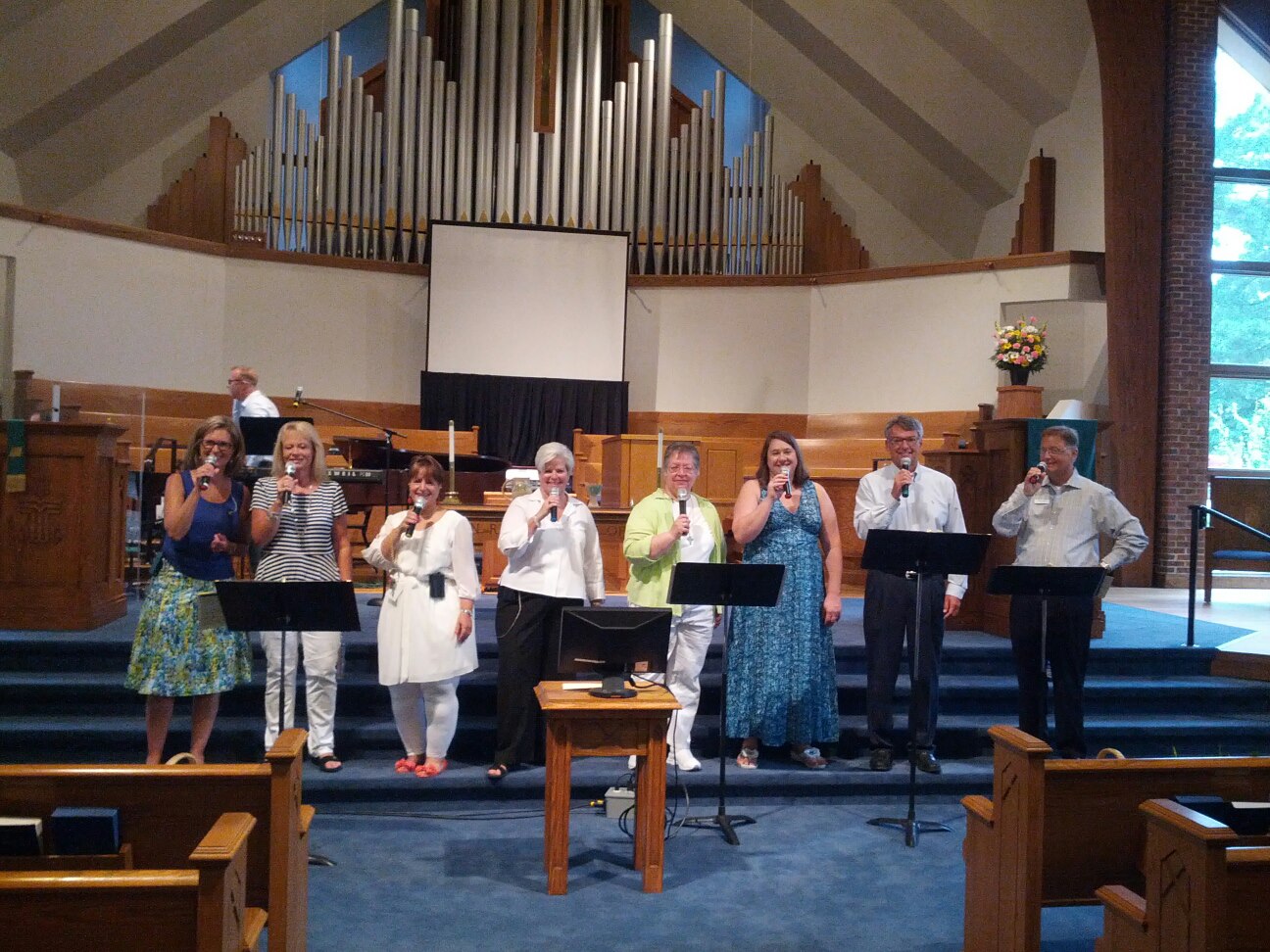 Praise Team/Connections Band
Drawing on the praise music repertoire but with a focus on reformed theology, the praise team is the musical ensemble that provides vocal and instrumental worship leadership. The group features combinations of lead vocals and harmonies, acoustic and electric guitars, bass, keys/synths and drums.
The ensemble rehearses at 7pm on Tuesday evenings and leads worship during the academic year. Due to the one-on-a-part nature of both vocals and instrumentals, an informal audition is required to participate, though any interested individuals are encouraged and welcomed to audition. The ensemble is directed by Interim Director, Pepper Choplin.
The Bells of Saint Andrews
Saint Andrews maintains a vibrant handbell tradition through its adult bell ensemble, The Bells of Saint Andrews, directed by Nancy Phillips. The ensemble rings in worship 8-10 times per year and in occasional concerts. 
It also draws upon the great wealth of knowledge and skill through the regular participation of members of The Raleigh Ringers, one of the premier handbell ensembles in the United States. The ringers perform on a 5-octave set of Malmark bells and a 5-octave set of Malmark hand chimes. Rehearsals are typically on Monday evenings from 7-9pm and the group generally rings in worship once a month.
Music for Children
Children at SAPC have opportunities to learn, serve and connect at SAPC through our four Children's musical ensembles:
Due to Covid, our children's music schedules may have changed. Please call our office for more details.
Cherub Singers
Directed by Catherine Hamner, the Cherub Singers rehearse on Sunday nights from 5–5:30pm in the choir room. Rehearsal is focused on the teaching of basic musical skills, establishing healthy foundations for singing and use of the voice and learning developmentally appropriate songs and games. They sing in worship 4-5 times per year. This ensemble is for children ages pre-K through 1st grade.
J.A.M. Singers (Jesus and Me)
Directed by Catherine Hamner, the JAM Singers continue to develop musical and vocal skills introduced to them as Cherub Singers. Basic part singing in 2 and 3 parts, vocal fundamentals, concepts of rhythmic and pitched music notation and basic elements of music theory and history are taught through developmentally appropriate sacred songs. The ensemble sings in worship 4-5 times per year and is open to students in 2nd–5th grades. Rehearsals are Sundays from 5:30–6pm in the choir room.
Cherub Ringers
Directed by Erin Glendening, the Cherub Ringers begin to learn basics of music and movement, fundamentals of music reading and rhythm through ringing child-appropriate hand chimes. Ringing in worship 4-5 times per year, the ringers learn to play many well-known Christian hymns. The ensemble is open to children ages pre-k through 1st grade. Rehearsals are on Sunday in Room 6 from 5:30–6pm.
J.A.M. Ringers
Directed by Erin Glendening, the JAM Ringers build off of the foundations learned through participation in the Cherub Ringers. Ringing hand chimes in worship 4-5 times per year and learn pieces drawn from the sacred children's handbell repertoire as they continue to hone skills such as rhythmic accuracy, music and movement and reading musical notation. Practice is in Room 6 on Sunday nights from 5-5:30pm.
Musical Instruments at Saint Andrews
The sanctuary of Saint Andrews is home to a 3 manual, 35 rank pipe organ (Opus 2010, installed in 1992) built by Schantz Organ Co.
In 2019, SAPC purchased a new piano for its sanctuary – a Yamaha CF6 7' grand piano.
The choir room is home to a 5'3" Yamaha GC1 piano.
Find a Fellowship Group
We're in this together